Referees have shown on countless occasions that they are humans with several mistakes on the pitch including horrific tackles which should have been accompanied by red cards. The top six horrific tackles to escape a red card has been revealed via a publication from the Daily Star and the report includes Dutchman Nigel De Jong.It must be pointed out that the horrific tackles were made before the era of VAR (Video Assistant Referees). VAR has been able to reduce the mistakes made by match officials as football continues to evolve.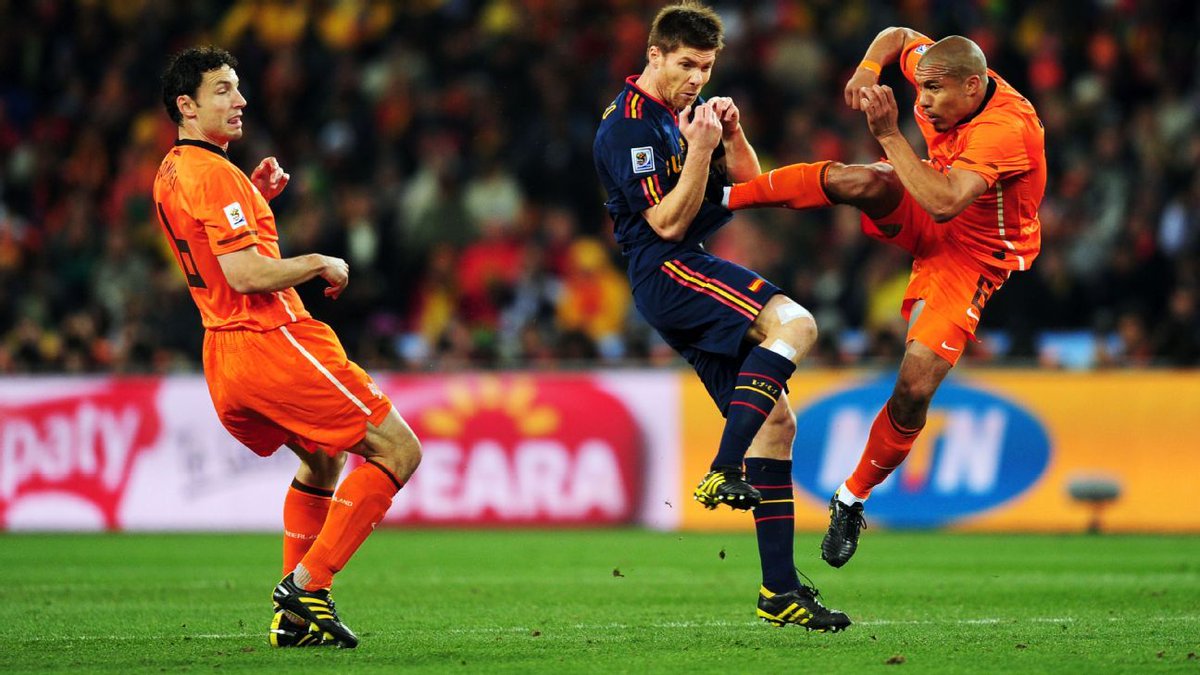 Five players have been sent off in the history of the World Cup final till date, but it should have been six. A lot of football fans still can't believe Nigel De Jong got away with his wild karate kick on Xabi Alonso during the 2010 FIFA World Cup final clash between the Netherlands and Spain. De Jong should have been sent off as a result of the karate kick which chopped down Alonso in the early stages of the game. The Dutchman was given a yellow card for the tackle by English centre referee Howard Webb and he won't have argued if the colour of the card was red. Nigel De Jong would have been sent off if there was VAR. It didn't matter much for Alonso and Spain in the end after they needed an extra time goal from Barcelona legend Andres Iniesta to beat De Jong and his Dutch team 1-0.
Ben Thatcher was a no-nonsense tackler during his playing days in the Premier League, but the tough-tackling fullback took things to far with his forearm smash on Portuguese midfielder Pedro Mendes while he was playing for Manchester City. Mendes was at Portsmouth at the time and the elbow left him at the hospital overnight. He was given a yellow card for the horrific challenge. Greater Manchester Police received a lot of complaints over the incident in addition to the FA slapping Thatcher with a fine of £80,000 plus an eight-match ban. Also, Manchester City suspended him indefinitely and fined him two weeks wages.
Some other horrific tackles include the one made by Dan Smith (Sunderland) on Frenchman AbouDiaby (Arsenal), Ander Herrera (Manchester United) on Joe Allen (Stoke City), CallumMcmanaman (Wigan Athletic) on MassaidoHaidara (Newcastle United) and Neil Ruddock (Liverpool) on Andy Cole (Manchester United).